Skincare products – Each skin type has advantages and disadvantages. For example, people who often have scales because of their dehydrated skin are unaware of the shiny effect caused by oily skin. If your skin is a combination type, you need to take special care of your T-zone. Are you constantly disappointed because of your skin type? Useless. Please find out how to have beautiful skin by knowing its weaknesses and choosing the proper skincare.
Skin type is passed on genetically and will not change during your lifetime. On the other hand, the current state of your skin can become problematic due to hormonal deviations in your body, your state of health, your lifestyle, or your psyche. There are four significant types of healthy skin – normal, dry, oily and combination. Then, there are problematic, sensitive or mature skins which precisely depend on a momentary state.
Normal Skin
How To Recognize Normal Skin
The skin is soft, hydrated, nourished, luminous and shows no tightness.
How To Take Care Of Normal Skin
It is simply necessary to ensure that it remains as it is. Hydrate during the day (for example, with Revolution Skincare Hydration Boost, a gel-like product with hyaluronic acid) and give her nourishing care with vitamins at night. To cleanse normal skin, use cleansing milk and a cleansing gel (Garnier Bio Lemongrass pleasantly awakens the skin thanks to its lemongrass extracts and the cornflower floral water it contains). If you choose a good serum (with hyaluronic acid or collagen) and do a detoxifying or cleansing mask once a week, you will see that the result will be perfect.
Dry Skin
How To Recognize Dry Skin
Dry skin tends to redden, peel, wrinkle quickly and dull easily. It is also quite sensitive. These characteristics are often the result of a poor skin barrier that fails to protect the skin against external effects (but its condition is also the result of stress).
How To Take Care Of Dry Skin
Choose creams with shea butter, glycerin or hyaluronic acid, as these substances have the power to hydrate, nourish and heal dehydrated skin. Bioderma Atoderm Nutritive dry skin cream is excellent even with atopic skin. And probiotic and prebiotic cosmetics are also perfectly suitable. When you remove your makeup, do not use micellar water or other products with alcohol. Instead, opt for an oil or hydrophilic oil. Use scrubs very little and instead choose nourishing, anti-stress and soothing masks. Vichy Mineral Masks based on aloe vera is, for example, excellent!
Oily Skin
How To Recognize Oily Skin
Your skin always feels like you're sweating, it glows, and you have times when it becomes problematic with lots of little pimples. Your pores are often clogged, and you have lots of blackheads. Oily skin, what to do?
How To Take Care Of Oily Skin
It is essential to clean it well. Micellar water for oily skin will dry out the skin and will thus be perfect. You can also opt for an oily skin cleanser such as a purifying and mattifying gel. Eucerin DermoPure Unscented Purifying Gel is very effective. The most delicate moisturizer for oily skin is a non-comedogenic cream, and the most suitable mask for oily skin is cucumber, tea tree or black charcoal. Indeed, these ingredients cleanse in-depth; they tighten the pores and mattify the skin's surface. There is an oily skin product that can also help you a lot: do you know Shiseido Generic Skincare Oil Control Blotting Papers for oily skin ?? They are perfect for immediately absorbing excess sebum.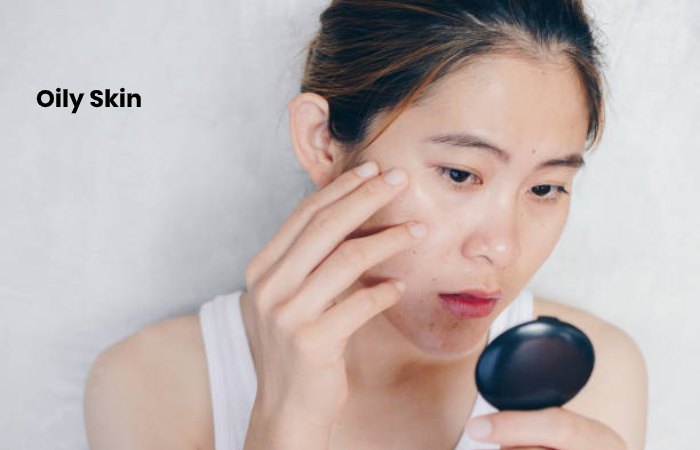 Mixed Skin – Skincare Products
How To Recognize Combination Skin
Combination skin is quite complicated. It is often oily in the T zone and relatively dry and sensitive on the rest of the face. But don't worry, a good choice of the products used will give them a nice balance.
The Best Treatments For Combination Skin
We recommend that you choose water-based products for makeup removal because oil would not be suitable for the T-zone, and alcohol-based treatments would tend to dry out the rest of the face. So opt for a makeup remover, a good tonic, and a gel-like Nuxe Aquabella, which also has micro-exfoliating effects. After thoroughly cleansing your skin, take the time to moisturize it lightly. For example, you can choose Biotherm Aquasource combination skin cream with a gel consistency rich in thermal plankton.
Sensitive Skin
How To Recognize Sensitive Skin
Sensitive skin is often irritated, dry and reddened. In addition, it causes burning or itching sensations in reaction to various cosmetic products and external effects such as temperature changes. Many often occur due to a weakened protective skin film and low-fat content of the skin.
How To Take Care Of Sensitive Skin
Cleanse the skin and remove makeup with a gel or micellar water, possibly followed by a tonic lotion. Bioderma products from the Créaline pink range provide gentle cleansing. Avoid classic peels that could irritate your skin even more, and instead, try extra-gentle peels for sensitive skin like the Nuxe Gentle Exfoliating Jelly. And don't forget hydration, which is essential for sensitive skin. Biotherm Aquasource Everplump thermal water sensitive skin cream can be an ideal choice.
Mature Skin – Skincare Products
Although this is not a primary skin type, each skin type we have just discussed will one day become mature skin. Therefore, the best cream for mature skin must include ingredients that promote collagen and elastin production.
The alpha and omega of a suitable treatment ensure a sufficient dose of hydration with the help of nourishing and anti-aging agents, which simultaneously fight against free radicals and visible wrinkles. Then, choose your makeup remover based on your primary skin type. Among the creams, I can recommend Lancôme Rénergie Multi-Glow, a rejuvenating cream with linseed extracts (which renew the structure of the skin), and Schizandra (which brightens) and colored pigments (which evens out skin tone ).
Conclusion
Skincare Products for Your Skin Type – Skincare is an essential requirement for men and women. The different skin type requires different kind of care. The choice depends on us whether to maintain it or ignore it. There is a wide variety of skincare products for different skin types. People of all ages and groups must take care of their skin.